Current Lineup Poppa Greg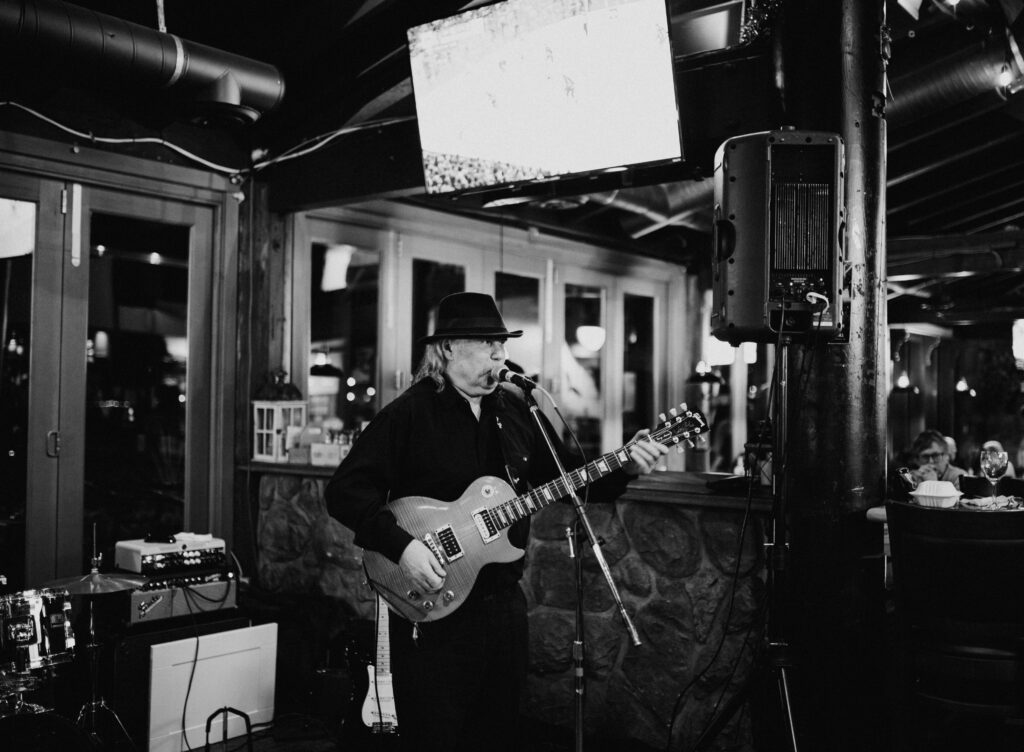 Getting "that sound" has been Greg's mission ever since. He started touring Ontario with his bands at age 17, and has played with numerous acts over the years. On the west coast now since 1975 and played full time in touring BC bands, his last major project was the Groove Grinders – a sharp classic rock and R & B act that played Vancouver clubs, pubs and parties for 7 years (2002-2008), wowing them everywhere. Greg has been on the Sunshine Coast since 2008, and was fortunate to sit in with, and front some great musicians at many venues up and down the Sunshine Coast.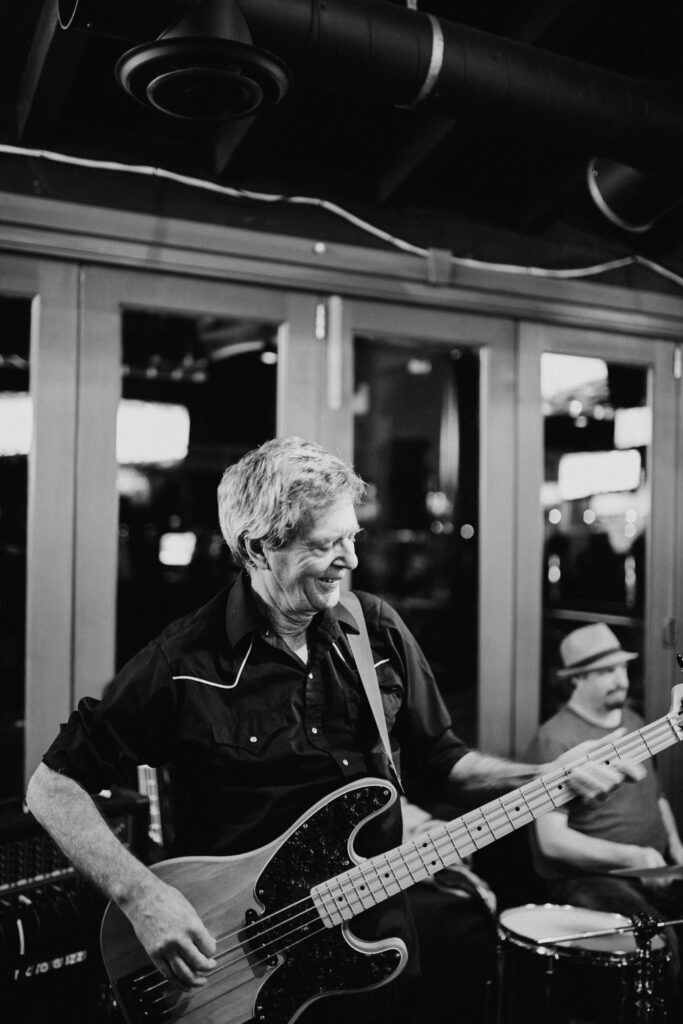 "Smiling" Mike West on the bass started playing @ 14 and spent high school years in garage bands
Moved to Owen Sound Ontario in 1977 and gigged in local bars and Legions while working for Ontario Hydro @ Bruce Nuclear
Moved to Vancouver in 1980 and played the Feldman Club circuit in Top 40 bands from1983 to 86
Started as front of house tech @ the Yale Hotel in Vancouver from 1986 to 1995
Played bass in various blues bands in Vancouver – toured with Downchild Blues band for 16 date BC tour
Road manager/front of house tech for Jim Byrnes Band until from 1988 to 2001
Retired from full time music ,but continued to sub and casual gig on bass with Vancouver blues bands
Retired from my day job in industry in 2017 and moved to Gibsons
Started playing bass in Sunshine Coast bands and has become a great addition to The Poppa Greg Band.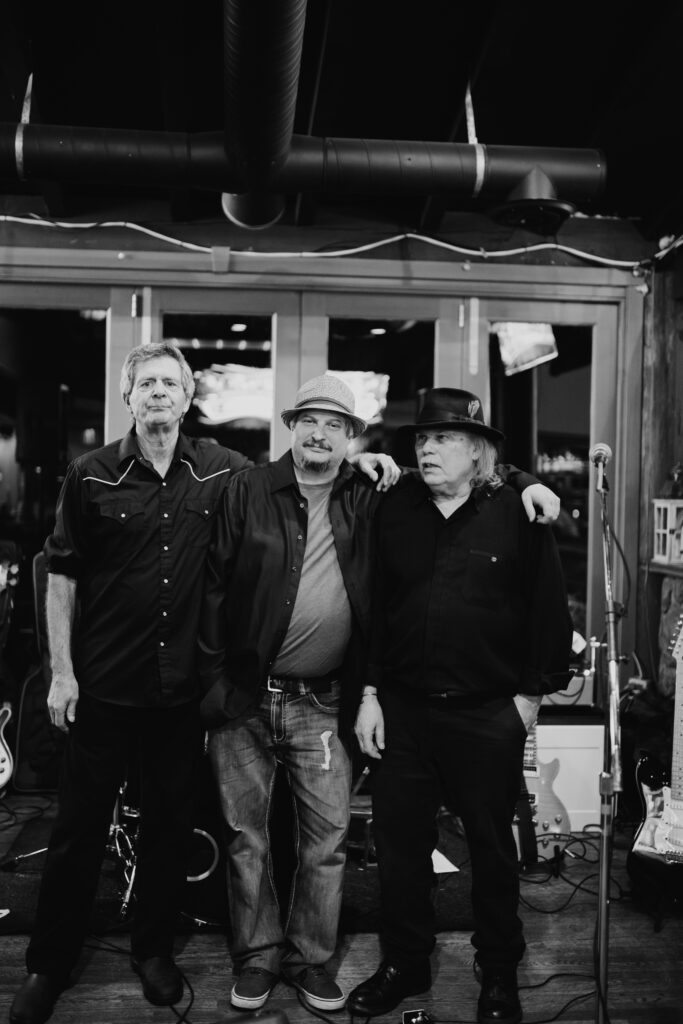 Tim Rannard has toured Canada and parts of the US for a few decades extensively playing in record label/top 40/tribute bands in his time as a full time musician from late 1980's to late 2000's. Tim Has been a producer/engineer/editor drum tech/assisted and a performer on many records in the 2000's based out of Vancouver. Working with some of the biggest record producers in the world. Tim stopped touring/recording and moved over to The Sunshine Coast to settle down. Tim still plays often as a hired gun to many local projects here which continues to keep his chops up on weekends. When time warrants, Tim has been doing some writing and focusing a lot on his guitar playing/singing. Tim currently is a Musical therapist for the Mental Health and Addictions program here on the Coast performing songs for clients weekly.
Your next good time dance band is Poppa Greg
The Poppa Greg Band has evolved quickly into one of the Sunshine Coast's best bands. Check them out at your favorite local, and remember – they're available for private functions too! Make your party the hit of the season when you hire this great band – Poppa Greg
Mixing equal parts rock, blues, soul, funk and talent, with a dash of Clapton, Hendrix, Page, Stevie Ray, the Sunshine Coasts' Poppa Greg has quickly proven to be a force to be reckoned with on local stages.
The Poppa Greg Band take the audience to a place where honest, positive and genuine hard work are on the ticket, and to share in a common love for good music with a big dose of blues and tasty guitar licks.
Incredible guitar playing, solid rhythm section and inspired original songs. Poppa Greg successfully touch all the bases – you won't be able to stay in your seat or not tap your feet!"
If it's dancing you want, Poppa Greg delivers.
Poppa Greg's live performances encourage the audience to have fun and enjoy wild electric rockin' blues, or gritty rootsy unplugged acoustic shows.
Poppa Greg lays it down with a "back beat narrow and hard to master".
Some of the genre's covered are blues and rock, influences include Billy Gibbons ZZ Top, Jimi Hendrix, Stevie Ray Vaughan, Jimmy Page, Eric Clapton, Johnny Winter, Muddy Waters, Howlin' Wolf
We are not a "put your guests to sleep" blues band. We are a "rock the dance floor" band.
The band is available for all types of events, including Restaurants, Clubs, Corporate Parties, Festivals, Fundraisers, Private Parties, and Wedding Receptions.
Poppa Greg is a musical group that play live music on the Sunshine Coast of BC Canada. They play tasty, carefully selected songs. Yes folk's it's true, real live music, real people playing real instruments, and singing with real voices with out the aid of electronic gimmickry.
Any size venue, any volume. Throw a party; hire a live band…
Poppa Greg has 1000 years of experience and the rhythm section is tighter than Dicks hatband.
You want some smooth music that will get your head nodding along with the beat and your hips swaying along with the music? Well then you're in the right place because "The Poppa Greg Band" is definitely what you're looking for. This Band combines a little bit of Blues, Rock with rhythm and blues mixed with a pinch of soul that was perfected by musicians like Buddy Guy, Johnny Winter, Eric Clapton, Stevie Ray Vaughan, and other greats. Give your event a guaranteed good time by booking Poppa Greg today.